Schedule a virtual transfer appointment today.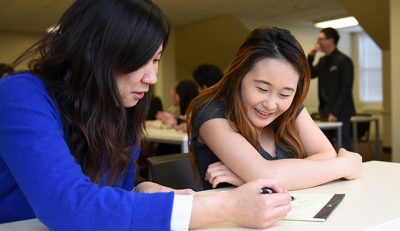 Transfer Tuesday Appointments
We're hosting 1:1 Virtual Transfer Appointments every Tuesday.
Transferring now saves money.
Start at Adelphi this summer by taking any of our more than 200 online courses, all small in size, all taught by world-class faculty dedicated to your success.
Earn credits at this summer's special low prices—even if you are only considering transferring.
Apply the money you spend on summer courses to your fall tuition at Adelphi.
Transferring to Adelphi is easy.
Set up a virtual appointment with one of our transfer counselors to learn about our:
Seamless application process
Generous credit transfer policy
Valuable scholarships and financial aid
Award-winning career guidance
Successful career outcomes
---
Should you require a disability-related accommodation to participate in a university-sponsored virtual event or program, please contact the Student Access Office by phone at 516.877.3806 or email at
sao@adelphi.edu
. When possible, please allow for a reasonable time frame prior to the event with requests for American Sign Language (ASL) Interpreters, Closed Captioning (CC), or Communication Access Real-time Translation (CART) Services; we suggest a minimum of five (5) business days.
---
Coronavirus Updates Regarding Admissions Events
We are actively monitoring the rapidly changing nature of the coronavirus pandemic around the world and especially here at home. It is our priority to ensure the safety, health, and well-being of our students, faculty, staff, and campus visitors. Read the latest information.
At this time, our Office of University Admissions will host virtual daily campus tours and virtual appointments.
Following the guidance of our local health officials and governing bodies, events and on-campus visits are suspended until further notice. Details will be shared in the coming days regarding virtual alternatives to explore.  
Explore Our Virtual Tour
We encourage you to take advantage of our immersive 360-degree virtual tour of our beautiful New York campus. Picture yourself managing funds in our trading room, simulating patient care in our Nursing labs, grabbing a bite to eat in our dining hall or catching up with classmates on the lawns of our swoon-worthy campus. 
Contact Us
Please contact us at any time with questions at transfer@adelphi.edu or 516.877.3050. Please continue to check your email and mobile devices for messages from our admissions team.
We encourage you to remain up to date on our latest community news and developments.